Useful resources to raise awareness of the risks and consequences of bridge strikes
This page highlights the key practices and resources available for personnel involved in the freight and passenger transport industry, as well as people who have an interest and responsibility for ensuring bridge strike events are prevented.
Preventing bridge strikes: Transport managers and professional drivers
Good practice guides have been developed in conjunction with our freight and passenger transport industry partners.
These are designed to raise the awareness of professional drivers and managers of transport companies to the risks and consequences of bridge strikes. They also give guidance to them on how they can be prevented:
The four guides, available from the Department for Transport website, are as follows:
Transport managers guide *
Professional drivers of passenger vehicles guide
Guide for passenger vehicle operational staff *
Professional drivers' guide
*Endorsed by the Parliamentary Under Secretary of State for Transport
Preventing bridge strikes: Guidance for foreign drivers and vehicles
We are aware that bridge strikes can involve drivers from other countries who may be unfamiliar with our roads or are driving left-hand-drive vehicles.
These foreign language guides have been endorsed by organisations that include the European Transport Safety Council, European Traffic Police Network (TISPOL) and International Road Haulage Union (IRU).
These guides are part of a series of actions underway to prevent bridge strikes as part of our commitment to delivering a safe and reliable railway.
To find out more about working alongside Network Rail to prevent bridge strikes, contact us at: bridgestrikes@networkrail.co.uk
Preventing bridge strike: Professional driver and industry staff training course
We have devised a training course for the driver certificate of professional competence (CPC) in conjunction with our partners from the freight industry and construction plant hire sector. Our aim for the course is to work with training providers to develop a more comprehensive course, that develops the knowledge and skills needed to prevent bridge strikes.
In addition to drivers, this course may be provided to other individuals in a freight transport or construction plant-hire company who have a role to play in the prevention of bridge strikes or reporting a bridge strike. This includes but is not limited to:
Transport managers
Office support staff (who may have to determine and advise drivers of alternative routes around obstructions)
This training course may also be suitable as ad-hoc training or briefings following bridge strikes or near misses.
The course is designed to be classroom-based, led by the trainer, and includes a mix of lecture-style presentations and group discussions together with appropriate question and answer interaction with the delegates.
Trainers should adapt this training course presentation to align with their company policy as necessary, the course is a guide only at this stage.
We have not sought approval of this course from the Joint Approvals Unit for Periodic Training (JAUPT), therefore any use of this course for drivers' CPC periodic training is subject to approval from JAUPT.
Downloads
Preventing bridge strikes: bridge location data
As part of our commitment to delivering a safe and reliable railway, we have compiled data from every underline bridge that has been involved in a bridge strike since the year 2000. This data can be added to navigation and route planning tools to enable road users to be alerted of a bridge that has been involved in incidents previously, so that they can take appropriate action.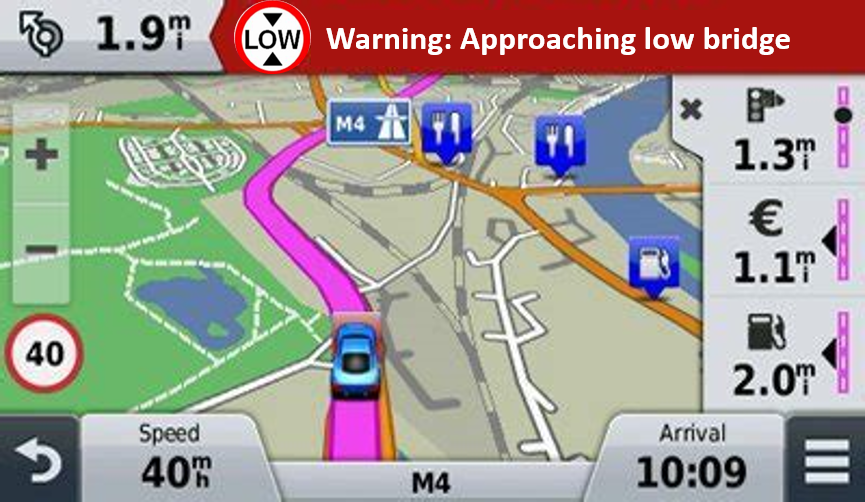 Please get in touch with us if this data would benefit you or your company, so that we can work together to make the railway safer, and keep Britain moving: bridgestrikes@networkrail.co.uk
Highway and road managers
The document Prevention of strikes on bridges over highways: A protocol for highway managers and bridge owners has been revised by a working party with representatives from ADEPT (Association of Directors of Environment, Economy, Planning and Transport), Department for Transport, London Transport and Network Rail.
This protocol will be used in collaboration with local highway and road authorities to outline standards and practices.
There is no one solution to the prevention of bridge strikes, but the protocol addresses measures to be taken by all highway and road authorities and bridge owners including:
the recommended system for signing a bridge at risk of bridge strikes
safety inspections to include the condition of traffic signs at and in advance of low bridges
road maintenance to consider the reduced clearance for vehicles at these bridges
Network Rail's 4E's initiative
We have an ongoing initiative to help make the railway safer by reducing bridge strikes, which is a combination of education, engineering, enablement and enforcement. The initiative aims to partner with the freight and passenger transport industry to reduce the frequency of bridge strike events, in order to make the road and the railway safer.
Click to view full PDF
As part of this initiative, we launched the "Wise-up, size-up" campaign, which highlights the importance of drivers knowing their vehicle height, and planning their route accordingly to avoid low bridges where possible.
Find out more