Oxfordshire's rail system has accommodated significant growth in the last decade but needs to continue to develop and grow to help link up important regional growth hubs across the Oxfordshire area.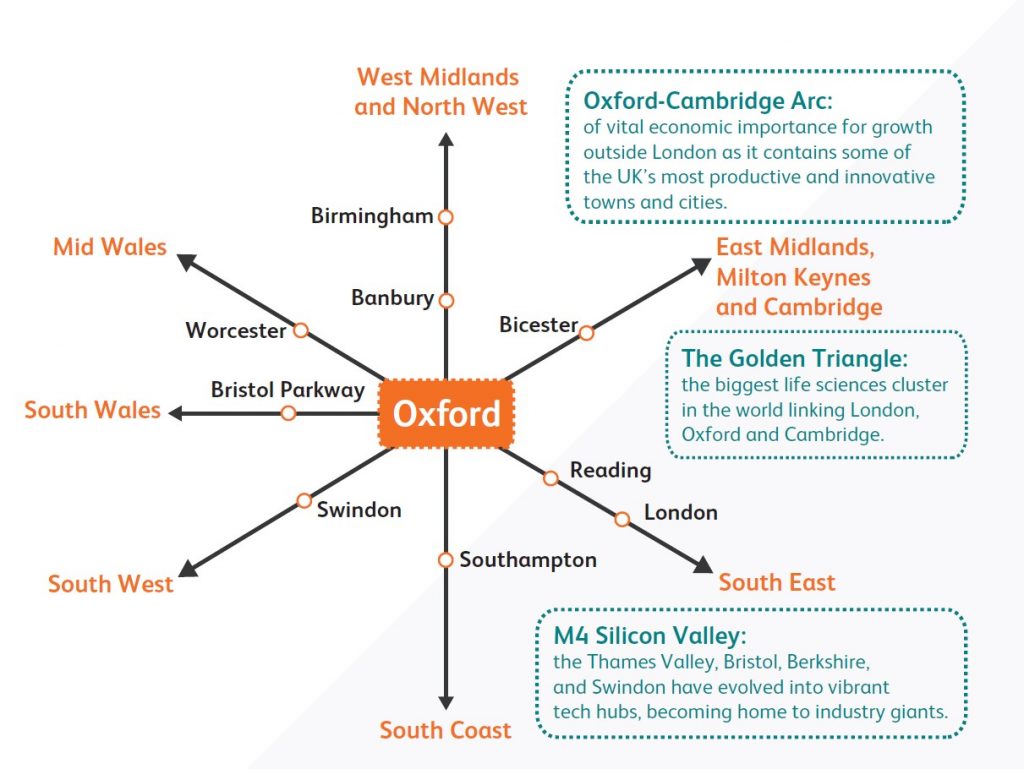 Oxford is strategically located at the heart of a rail corridor that supports key economic growth and transport initiatives across the UK, with a high volume of passenger and freight traffic.
Oxfordshire's local authorities have established ambitious plans for housing and employment growth across the county over the coming decades, which forms part of the government strategy to build one million additional homes in the arc from Oxford to Cambridge by 2050.
Rail will form a key part of the transport infrastructure needed to support that growth, but to do so will require additional capacity for freight and passengers, new journeys across Oxfordshire, and potentially additional stations.
Mapping the future of Oxfordshire's rail network
The Oxfordshire Rail Corridor Study (ORCS) looks in detail at the county's predicted growth in jobs and housing to present an industry vision for how the rail network can best support it.
The strategy looks at the potential requirements for Oxfordshire's future trains services in the medium (2028) and long-term (2033). Key requirements identified include:
Improve connections across Oxford, especially linking Didcot Parkway to Bicester Village and Hanborough
Improve Oxford's connections with priority economic hubs, such as Birmingham, Reading and Bristol)
Support growth in seven Oxfordshire hubs by improving connectivity between them – Oxford, Didcot Parkway, Oxford Parkway, Bicester Village, Banbury, Hanborough, and Culham
Support Oxfordshire's vital strategic role for rail freight passing through the county, which is forecast to grow over coming years
Increasing rail capacity in Oxford
The study identifies increasing capacity at Oxford station as a vital first step to opening up the network for further growth. In May 2021, the Department for Transport confirmed £69m of funding for Phase 2 of the Oxford Corridor Capacity Improvement Scheme, which is a package of rail enhancement schemes which provide extra capacity for the rail network, plus additional facilities at the station and surrounding area.
Oxford Corridor Phase 0 was commissioned in December 2016 and included provision of two new platforms on the east side of the station to allow a new train service to be introduced between Oxford and London Marylebone.
Oxford Corridor Phase 1 was commissioned in July 2018 and included extensive track re-modelling in the Oxford area, extended train stabling sidings to the north of the station and full re-signalling of the whole railway between Didcot and Heyford which unlocked additional rail capacity and improved operational flexibility.
Up carriage sidings – We're working on installing shore supplies which will allow the electric trains to be plugged into an electricity supply to allow for cleaning without having to run the engines to help reduce noise from idling trains supporting the wider community and environment.
This investment in Phase 2 will increase capacity and journey times on this key route, as well as further develop plans for a new platform and western entrance to inform a funding bid later this year. These improvements will enable more trains to serve the station in the future and create more access for passengers.
Study recommendations
The study's recommendations have been drawn together to form an overarching industry strategy for the county known as 'Oxfordshire Connect', which will be used to promote future investment priorities and help seek future funding through the Government's Rail Network Enhancements Pipeline (RNEP) and third parties.
It recommends a number of potential future improvements to support increasing interconnectivity across Oxfordshire. Subject to future funding and viable business cases, these could include:
Reopening the Cowley branch line for passenger services
Additional services at Hanborough
Additional infrastructure to provide greater capacity in and around Didcot, including the proposal for a new station at Wantage/Grove, which would require additional main line infrastructure.
Work is already underway on some of the priority projects that have been identified, with the aim of progressing them to the next stage of business case development.
Other projects
Oxford Station Masterplan
Working with Oxford City Council and their consultants, we are supporting further master planning to understand development opportunities for the wider station area that incorporate additional capacity requirements for future growth in rail, as well as improvements to the wider realm and environment for the station area to transform the gateway to the City.
East West Rail
East West Rail is creating a new direct east-west rail link between Oxford and Cambridge. Serving communities across the area, it will cater for future growth, with the support of new local services which are quicker. This will support the thriving OxCam Arc of science and business. Find out more about East West Rail.