Managing the impact of extreme weather and climate change on embankments in Southern Region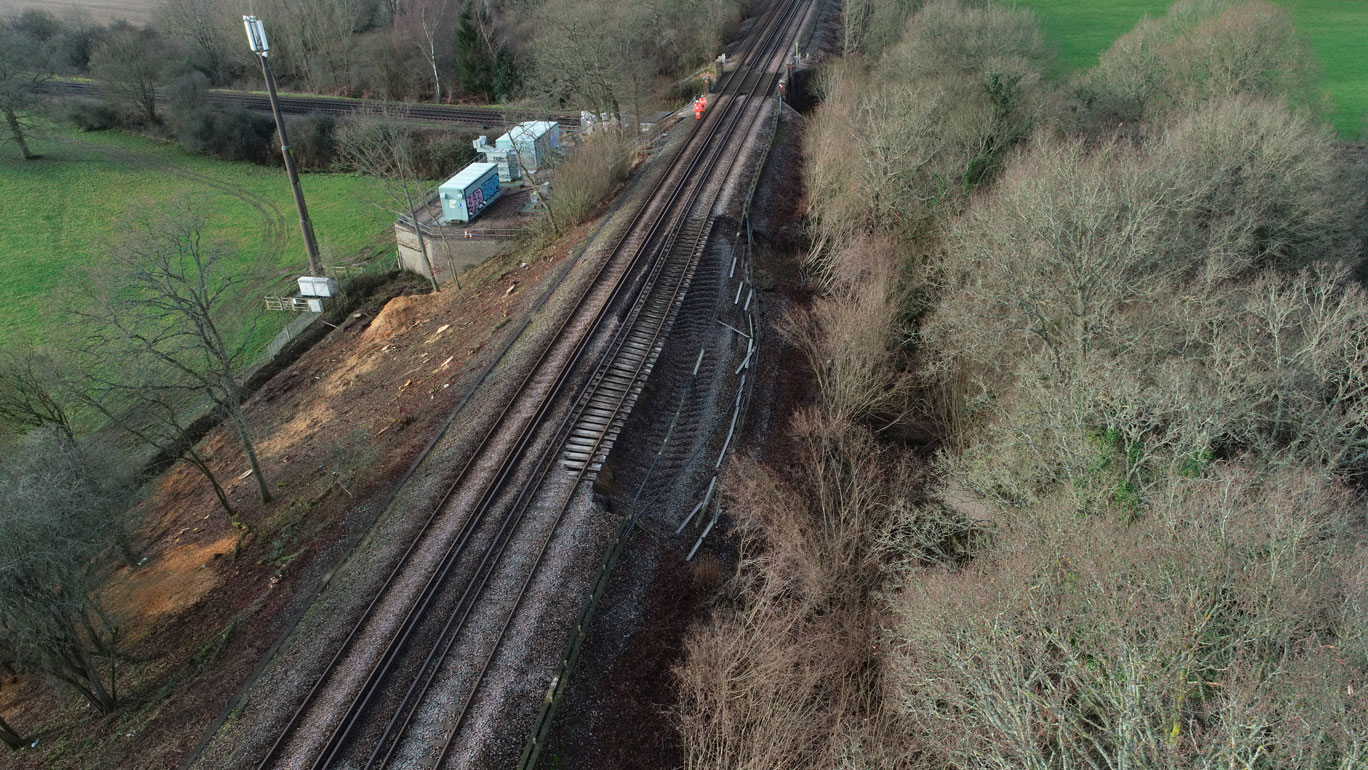 Changing weather conditions
According to the Met Office, all of the UK's ten warmest years on record have occurred since 2002. Heatwaves, like that of summer 2018, are now 30 times more likely to happen due to climate change. Heavy rainfall is also more likely. Since 1998, the UK has seen seven of the ten wettest years on record. The winter storms in 2015 were at least 40% more likely because of climate change.
Heatwaves impact our railway by drying out the soil it is built on, both through heat radiation and through trees and vegetation soaking up all the water. This makes it harder to keep track in good condition as the land dries out unevenly. In addition, as trees become water stressed, they are less able to withstand high winds and storms and can fall onto the railway.
Heavy rain has an even worse impact. In 2019 we saw three months of rain in November and then a whole month of rain in one week in December. The soil around (and on) the railway is saturated and will not dry off until May 2020.
Since mid-December we have been dealing with a series of landslips of varying severity, the most notable of which were at Epsom, which was fixed on January 6, and at Edenbridge, which remains closed and will be that way until late March 2020.
In addition, the line from Horsham to Dorking is closed until Tuesday, January 21, for a slip to be repaired at Ockley.
We have other ongoing landslips across the region that aren't affecting trains, including:
On the Brighton Main Line at Wivelsfield, near Burgess Hill.
On the East Grinstead line at Cookspond near Dormans.
On the Uckfield line at Hever.
Climate change is projected to increase the severity and frequency of extreme weather and we are planning now in order to provide a safe, reliable network in the future.
Network Rail has a Weather Resilience and Climate Change Adaptation Strategy which aims to embed management of climate change within everything that we do and Southern Region has Weather and Climate Change Action Plans detailing the work we are doing to increase the resilience of the railway.
How we manage the impact of extreme weather impacts on embankments in Southern Region
Our railway was the among the first in the world and some of our busiest lines were built as early as the 1830s. This includes the Redhill-Tonbridge line, where the Edenbridge landslip happened on 22 December 2019. Work began here in 1836.
To save money, railway builders kept their land purchases to a minimum, which meant embankments and cuttings were very narrow and steep-sided. This makes them vulnerable to extreme weather. In addition they employed contractors of varying quality. Notably, the tunnels on the Tonbridge to Hastings line were built without enough brick layers and had to be strengthened later on, making the tunnels narrow and single track.
In addition, knowledge of "soil mechanics" was not advanced in those days and embankments were made of whatever material was extracted as spoil from cuttings. In some cases, such as Edenbridge and previous landslips in places such as Stonegate, different layers of material were dumped on top of each other and the railway built on top. This is a particular problem when chalk and clay are mixed – which is often the case in the south. Water permeates the chalk and then hits the clay and runs off it. As the different materials absorb water at different rates, eventually one layer will slide off the other and a landslip develops.
The geology of the south is mixed and railways will often be built of very different materials in a short distance.
If you take the example of the Brighton Main Line, it cuts straight through those different strata, starting on chalk and then crossing bands of gault (clay), greensand and then more clay. The Wivelsfield landslip is in an area of clay, as is Edenbridge.
Clay is a continuing challenge for Network Rail as it absorbs water and expands during the winter and then dries off and contracts as trees and vegetation soak up the water. This leads to poor track quality and at worst, landslips.
It is a myth that trees hold embankments and cuttings together and landslips happen when we remove them. Trees are quite useful at the toe of embankments, as their weight acts as an anchor, but anywhere else on embankments and cuttings, their weight can pull them down and during summer they soak up water and cause the earthworks to dry out. In addition, in a wet winter their root balls weaken and they can fall on the railway in high winds.
We manage our infrastructure under these challenging conditions by:
Monitoring track quality and sites where we have concerns;
Taking proactive action, such as at Barnehurst and Wivelsfield, to rebuild and regrade weak earthworks (effectively making them less steep);
Rebuilding drainage, such as on the Brighton Main Line upgrade project, maintain it and keep it free from debris; and
Removing trees and vegetation from cuttings and embankments.
How are we going to adapt the railway to climate change?
We have commissioned a major report into climate change and our railway infrastructure in the South and what we need to do to adapt it to changing weather patterns. We know we can't rebuild every mile of railway, but we can continue to work hard to protect it and also find out if there are new ways of working or technology that can help us.
Related pages