We're dedicated to creating an inclusive environment for our people.
We want our employees to reflect the diverse communities that we serve. We welcome different and fresh ways of thinking and encourage a culture where people feel empowered to act.
Our champions, employee networks and equality reps challenge us to improve and help us to embed our diversity and inclusion strategy. They speak up when things could be better by sharing lived experiences and feedback on behalf of their communities.
We want our people to be proud to work for us, because wherever they go, whoever they are, everyone matters.
Our diversity and inclusion champions
We have over 2,000 diversity and inclusion champions who act as local change agents. These colleagues across the business, role model inclusive behaviour, sign-post colleagues to help and the right resources. They challenge us to do better, where our behaviours can improve, and challenge us to be more ambitious.
Our champions gain a basic level of knowledge through online workshops, although they may also look to develop their capability through research and by meeting and communicating with people from diverse backgrounds or origins.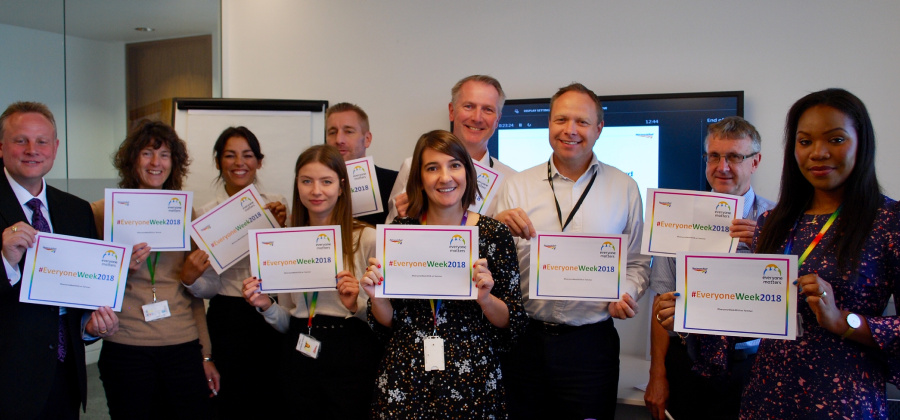 The role of diversity and inclusion champion is voluntary alongside our colleague's day to day roles. The champions can be identified by several means including rainbow lanyards, rainbow arm cards (front line colleagues), posters and email signatures.
Our seven employee networks
Employee networks contribute to a more open, inclusive and diverse organisation. They help us to understand our differences and similarities and improve communication around the business.
They also provide support to individuals and teams and offer fresh opportunities to be involved as part of Network Rail.
Family Focus
Supporting families is one of our core commitments to our colleagues. Our Family Focus network offers support to all different family types, including single parent families, same sex parents, those without children, those starting their journey to have children, and general family related matters.
Inspire
Inspire focus on creating a fair gender diversity at Network Rail and building an organisation which is seen externally by all genders as an employer of choice.
Multi-Faith
Multi Faith's primary goals are related to creating a workplace where all employees can work comfortably in a faith-accepting environment.
Our equality representatives
The role of trade union equality representatives is to help make the workplace fairer and to ensure our people are more aware of the concept of diversity and inclusion in both policy and practice. Diversity and inclusion can often be complex, and representatives are required to keep up to date with legislation and best practice.
---
Recommended stories
---
Related pages