London's most central railway station
Charing Cross was built on the site of the famous Hungerford Market, opening in 1864. One year later, Charing Cross Hotel was built, giving the station an ornate French Renaissance style frontage.
Located in the City of Westminster, London Charing Cross accommodates 30.2 million passengers a year. It faces the Shard from the front, and the Hungerford Bridge at the other end where trains cross into and out of Charing Cross, passing over the River Thames.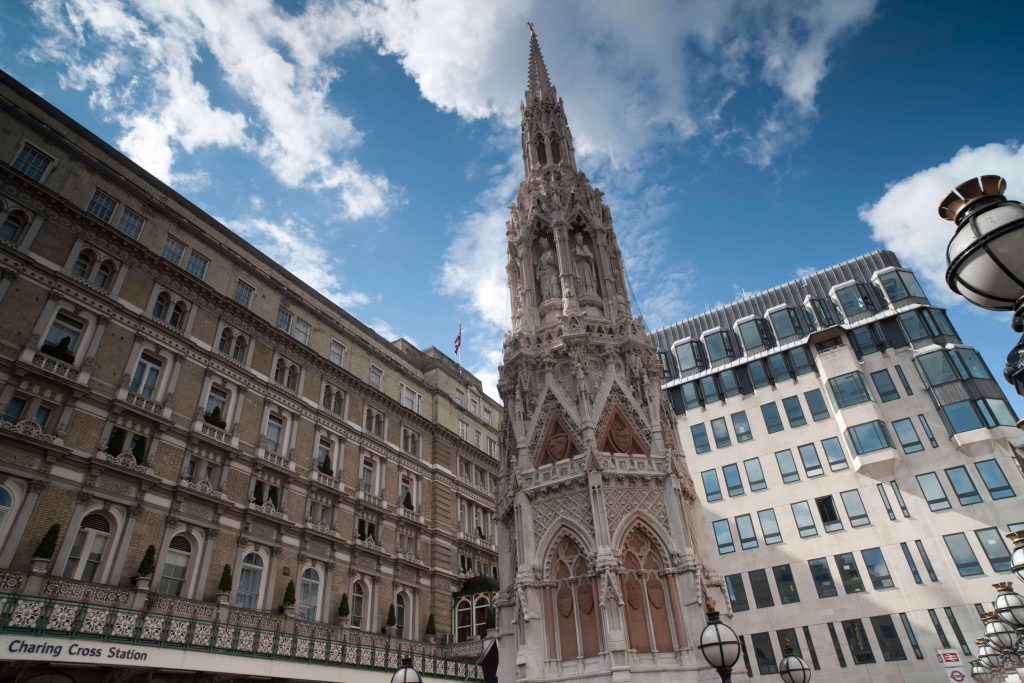 Station opening hours
Monday to Saturday: 04:30 – 00:50
Sunday: 06:30 – 00:46
Tickets and travel information
National Rail Enquiries
03457 48 49 50

Textphone: 0345 60 50 600
Welsh language line: 0345 60 40 500
Station enquiries
General station enquiries: 03457 11 41 41
Find your way around using the Charing Cross Station Map (PDF 1MB)
British Transport Police
For assistance speak to any member of station staff or contact the British Transport Police on 0800 40 50 40 (24 hours) or text 61016. In an emergency call 999.
British Transport Police in our stations
Face coverings
You must wear a face covering for the full duration of your journey on public transport in England, Scotland and Wales.
You could be fined up to £6,400 if you refuse to wear a face covering. Find out more about specific exemptions.
Tickets and information
Ticket office:
Monday to Saturday 04:30 – 00:50
Sunday 06:45 – 00:46
There are ticket machines located by the ticket office.
The ticket office and machines are run by Southeastern.
For tickets, train times and up to the minute information visit National Rail Enquiries or call 03457 48 49 50. Alternatively contact Southeastern.
Toilets and baby changing
Men and women's public toilets are located between Boots and Caffe Nero.
Accessible, baby change: in the Central exit to The Strand between Marks & Spencer and Whistle Stop.
Cash
There are three ATM machines located between Hotel Chocolat and The Pasty Shop on the station concourse.
Telephones
There are payphones in the Trafalgar Square Exit near to the left luggage facilities, where there is also a BT textphone, and in the Central Exit to the Strand.
Wi-Fi
There are currently no WiFi facilities available.
Waiting room
Next to the gate line for Platform 4.
Lost property
At the station
Items handed in at the station are kept in the left luggage office. Report a lost item online.
Lost property counter opening hours:
Monday to Sunday 07:00 – 23:00
On board a train
Items left on trains are kept by Southeastern: report a lost item online or call 0845 000 2222.
Left luggage
You can leave luggage at Excess Baggage on the concourse.
Monday to Sunday 07:00 – 23:00
You can pre-book storage for your heavy, awkward or high-value luggage at our station left luggage facilities.
For more information visit Excess Baggage or call 020 7930 5444.
Trolleys
There are no luggage trolleys in the station.
Photo booths
There is a photo-booth in the Trafalgar Square Exit near to the left luggage.
Water fountain
The water fountain is located on the left hand side of the TFL visitor information kiosk near by platform 5.
Parking
There is no car park at the station.
Accessible parking
There are no accessible parking spaces at the station, but there is a bay on the forecourt reserved for Blue Badge holders picking up or dropping off passengers.
Cycle parking
Some bicycle racks are available on the forecourt.
Accessibility
Step free access: there is step-free access from the Strand. Access from Villiers Street is by escalators controlled by the Embankment Place management. The station forecourt is cobbled, but there is a pavement to one side.
Induction loops: the helpdesk has a loop, left luggage / lost property does not have one.
Visually impaired: there are no tactile warning strips along the platform edges.
Requesting assistance
Coronavirus information: Book passenger assistance as you normally would. Please wear your own face covering and our staff will do likewise, this reduces the risk to you and our staff. At our stations we have face coverings and hand sanitiser available to help us help you.
If you need help with mobility or with luggage, we can help you more effectively if you call in advance on 0800 783 4524.
In the station, please speak to any member of our staff including cleaners, or go to the Southeastern information desk:
Monday to Saturday 06:30 – 22:00
Sunday 07:30 – 22:00
Accessible toilets
Near the central Strand exit.
Wheelchairs
Wheelchairs are available for use with staff assistance.
Textphone
In the central entrance, between the forecourt and the concourse.
Getting to and from the station
Information about accessible public transport is available from Transport for London:
Transport accessibility information
Helpline: 0343 222 1234 (option 3) (24 hours)
Bus
TfL bus accessibility information
There is step-free access from the bus stops on the Strand.
All buses are accessible except heritage routes 9 and 15.
Underground
TfL Tube accessibility information
Charing Cross
Lines serving Charing Cross Underground:
There is no step-free access to the ticket office or platform levels, however an escalator descends to the ticket hall level until approximately 10:30 and rises for the rest of the day.
Embankment
To get to there, turn right onto Strand and take the first right down Villiers Street – the station is about 250 metres ahead.
Lines serving Embankment Underground:
District
Circle
Bakerloo
Northern
There is no step-free access to the ticket office or platform levels.
Car
Pick-up / drop-off point: there is a space on the station forecourt reserved for Blue Badge holders, waiting is not permitted.
Parking: there is no station car park.
Taxi
The taxi rank is on the cobbled station forecourt.
All taxis are accessible.
For more information visit traintaxi.
Click on the link below to search for food, drink and shopping outlets at London Charing Cross station.
Related pages