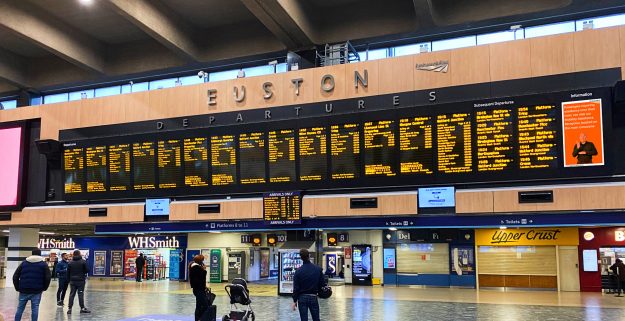 London Euston has become the first railway station in the country to provide the latest passenger information using British Sign...
Our teams worked over the bank holiday weekend on 620 projects worth £80m to give you better rail journeys. Here...
More stories from around our network
Why do your rail services sometimes slow due to a speed restriction? We know it's the last thing anyone wants to hear but there are some reasons why we might have to put speed restrictions...
Our teams across Britain are preparing to carry out 620 projects worth £80m this late May bank holiday to give you better rail journeys. Most of the railway will be unaffected but the works will...
We've just completed a big project in the Clacton-on-Sea area in Essex to bring its signalling system into the 21st century. The vital upgrade will give you more reliable journeys. How? Our team has installed...
A railway station design that includes its own renewable energy generation has won a competition to shape Britain's future railways. Network Rail and the Royal Institute of British Architects (RIBA) have chosen Edinburgh-based 7N Architects'...
We're working hard across Britain to provide Access for All - from step-free access to the latest tech to give you better journeys. The Access for All Programme aims to provides an obstacle free, accessible route to...
We just completed more than £100m of vital railway upgrades and maintenance projects over the this Easter weekend to give you better journeys across Britain. Our teams carried out 600 projects around the country between...
This Easter, we'll start work to make your rail services more reliable in Essex and East London. Over the next four years, we're investing more than £80m in replacing 50 kilometres of wire. It's an...
We look at our bank holiday plans in London as we count down to our huge Easter railway works. They range from essential improvements to signalling to keep your journeys safe and reliable to work...
Results 1 - 10 out of 112