Putting passengers first isn't all about delivering large-scale infrastructure projects and railway improvements.
It's doing what we can to make journeys easier and more convenient for the millions of travellers who use the railway every day.
That's why we're working hard to implement a string of smaller initiatives that will have a big overall impact on the passenger experience.
Here's a roundup of some of our work in August:
Bank holiday works
We delivered 448 projects worth almost £100m across Britain this August bank holiday weekend.
West Highland Line repairs complete
Our team in Scotland reopened the West Highland line after repairs to extensive flooding damage.
Washed away track line and landslips at multiple locations around Crianlarich and Tyndrum had closed the line. The incidents followed very heavy rainfall on Sunday August 4 when about 80mm of rain fell in just a few hours onto already saturated land.
This caused serious flooding, which washed away sections of ballast and embankment and overwhelmed drainage on the railway. Further heavy rain on Friday, August 9, also caused landslips, which brought debris down from above and blocked the line at Arrochar.
We strengthened embankments and enhanced drainage where possible and rebuilt the track-bed before reinstating the railway.
The repairs required more than 3,000 tonnes of rock, including 350 one-tonne rock armour blocks to rebuild and support the embankments.
Acton Grange's 16-day overhaul
We delivered a more reliable railway on the West Coast Main Line after a major renewal of Acton Grange junction near Warrington in Cheshire.
The £27m overhaul, part of the Great North Rail Project, included to track, cabling, overhead lines and signalling.
The vital 16-day upgrade has brought outdated track and equipment up to modern standards and further improved the reliability of the economically important West Coast Main Line.
Aberdeen-Inverness line reopens
The railway between Aberdeen and Huntly reopened after the successful completion of a 15-week-long project to upgrade the line.
Since May 4, engineers had worked around-the-clock to double the track between Dyce and Inverurie, and upgrade signalling systems between Aberdeen and Huntly.
We laid more than 10 miles of new rail across more than 41,000 sleepers. We also upgraded signalling and 19 bridges on the line.
During the closure, work also began on the new Kintore station, with both platforms beginning to take shape.
These upgrades – part of the Scottish Government-funded Aberdeen-Inverness Improvement Project – will help increase services and cut journey between the two cities.
From December, Scotland's railway will introduce a significantly enhanced service between Aberdeen, Dyce and Inverurie.
Full steam ahead for Conwy Valley
Network Rail and Transport for Wales Rail Services hosted a special steam train trip to celebrate the early reopening of the Conwy Valley line.
The Conwy Quest, hauled by double headed steam locos 48151 and 46115, ran from Chester to Blaenau Ffestiniog. It also stopped at Llandudno Junction along the way for a reopening ceremony.
The line, which closed in March due to extensive flooding, fully reopened for passengers on 24 July ahead of the annual cultural festival, National Eisteddfod in Llanrwst.
New roof for Leeds
Passengers at Leeds got their first glimpse of the new station roof as construction hoardings began to come down.
We're replacing the old, wooden roof with a transparent one that will allow natural light into the south concourse.
Meanwhile, the refurbished public toilets – which are now free to use – reopened, and new automatic ticket gates will come into use in late-September. Work to part-pedestrianise New Station Street is also progressing well.
Track upgrade on Mid-Cheshire line
Passengers travelling between Chester and Manchester via Altrincham are benefitting from faster and smoother journeys thanks to modernised railway tracks.
The £800,000 investment, part of the Great North Rail Project, has updated sleepers, railway stone and rail.
The previous poor condition of the track through the 'Bleeding Wolf' area of Hale meant trains could only travel at 20mph. Now, stronger and more water-resilient track has led to a three-fold increase in the line speed.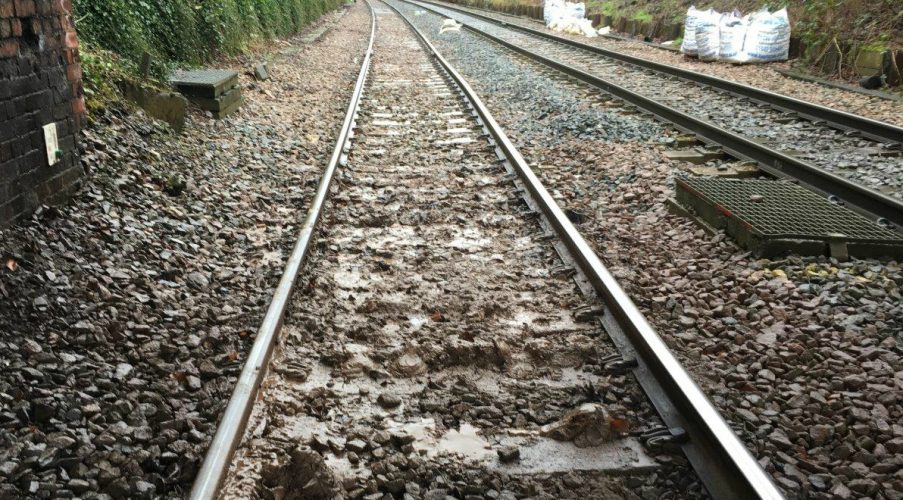 Access for All at Kilwinning
Kilwinning station's new, fully-accessible footbridge and lifts opened for passengers following a £4m investment.
We significantly improved access to the North Ayrshire station with a three-span footbridge with lifts and stairs for step-free access to all platforms.
Liam Sumpter, Network Rail Scotland Route Director, said: "Scotland's Railway is working closely with Transport Scotland to deliver access improvements at as many stations as possible so we can open up the network and create more travel choices for people across the country."
New lifts at Carshalton
Passengers in Carshalton now benefit from step-free access for the first time following the completion of an Access for All scheme at their station.
The £2.5m project has provided two new lifts for obstacle-free, accessible routes to each platform.
Meanwhile, we have worked closely with train operator Southern, which manages the station, to deliver a range of other improvements for passengers. These include an upgrade to the station toilets and cleaning and repainting the subway, stairs and ticket hall areas.
Dawlish drop-in session
We invited residents to a drop-in session in Dawlish, Devon, to update them ahead of work restarting on the new sea wall. The project will help protect the town and the railway from extreme weather and rising sea levels for generations to come.
We will restart work on 9 September on the new bigger sea wall, which will provide greater resilience for the stretch of railway that connects the South West with the rest of the country.
Work had stopped during the peak summer tourism season to minimise the impact on local communities and businesses.
London Bridge oasis
Passengers at London Bridge station can now escape the hustle and bustle of their daily commutes after we supported the transformation of the Stainer Street walkway into a temporary urban oasis.
Those in need of a moment of tranquillity can find it in four temporary public gardens, created using materials recycled from the recent RHS Hampton Court Garden Festival.
Team London Bridge commissioned the gardens with the local business improvement district and support from Network Rail. Cityscapes delivered the installation following its highly acclaimed 2013 Remix Garden project.
Read more:
Almost £100m of bank holiday upgrades delivered
Bank holiday upgrades: focus on London King's Cross
How we're reducing delay minutes after engineering work
Better design across our railway