As part of our national level crossing risk reduction programme we want to improve the safety at Cottonmill Lane level crossing.
We have a legal responsibility to keep people safe near and on the railway and part of this is managing safety at level crossings. Cottonmill Lane level crossing is the 6th highest risk out of 770 level crossings that we manage on the London North Western route.
In recent months we have considered feedback from more than 200 crossing users about alternative options to the crossing (available to view below). After careful consideration and in recognition of public opinion, we are no longer looking at closing the crossing and will instead prioritise the enhancement of the level crossing to reduce risk to the public as low as reasonably practicable.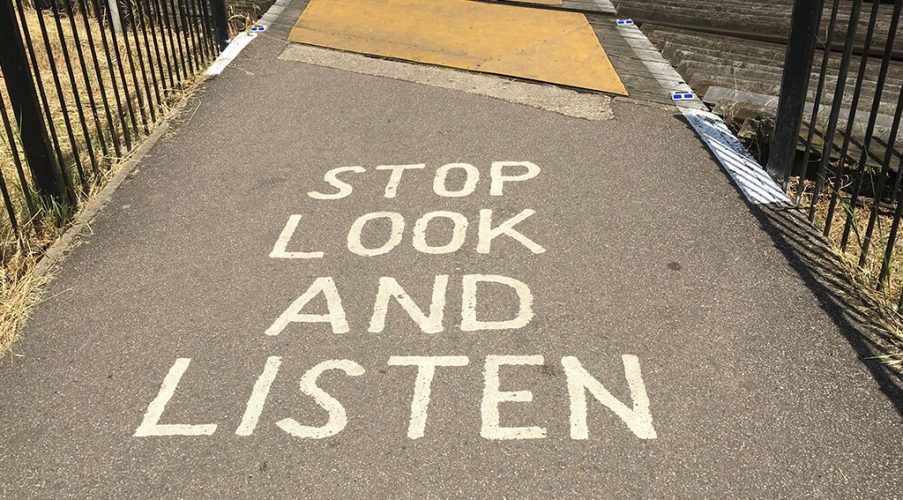 Work that is currently being planned for delivery in 2019 to improve safety at the crossing, will:
Straighten the crossing to remove the skewed approach;
Install new fencing to turn users in each direction before crossing;
Renew the crossing surface to reduce the risk of pushchairs/wheelchairs becoming stuck;
Emphasise the danger zone with a bright yellow crossing surface;
Draw attention to the crossing "decision point" with white fence posts and ground markings;
Improve the gates so that they self-close properly whilst remaining appropriately weighted;
Retain the 20mph speed restriction to the railway over the crossing.
In addition to this work we will:
Deliver a targeted safety campaign with, and for, the local community;
Undertake further census and safety monitoring of the crossing following introduction of the enhancements.
How we assess safety at Cottonmill Lane level crossing
All level crossings are monitored by a designated level crossing manager and it is their role to manage safety at the crossing. The level crossing manager considers a range of factors when assessing the level of risk at a crossing. These include (but are not limited to): the volume and character of crossing use; the frequency of trains; sight lines along the railway; the railway line speed; the crossing width; the crossing's history of incidents and dangerous behaviour.
At Cottonmill Lane we have observed particularly high levels of dangerous behaviour, some of which is deliberate but much appears to be accidental. This is one of the reasons that we are concerned about safety at Cottonmill Lane. The railway industry refers such behaviour as 'user human error' and 'deliberate misuse' and all of the incidents observed at Cottonmill Lane level crossing can be categorised in these ways.
What is deliberate misuse and user human error?
We recognise 'deliberate misuse' as a deliberate action on the part of the level crossing user, who was aware the action was incorrect and carried risk.
'User human error' is defined as a deliberate action on the part of the crossing user, who was not aware that the action was incorrect or carried risk, or, unintentional action on the part of the crossing user, which was not compliant with the crossing rules.
The events described as "dangerous" at Cottonmill Lane level crossing all fall within these two categories. They include examples of:
Crossing whilst distracted, which is a form of 'user human error'. An example of this type of behaviour would be the use of headphones whilst crossing and not looking left and right; using a mobile phone; riding a bike across the crossing and failing to look for trains.
Entrapment on the level crossing, which is categorised as 'user human error'. This is when a level crossing user becomes stuck on the crossing. Examples of this include bikes, prams or wheelchairs becoming trapped in between the rails.
Deliberate misuse of the level crossing. This includes using the level crossing as somewhere to congregate, playing on the crossing, walking along the rails, lying down at the crossing.
Near miss events, which can be categorised as either 'user human error' or 'deliberate misuse' depending on the circumstances. This is where a train driver has filed a report of a near miss with a crossing user. The driver might have had to apply their emergency breaks or it might have been too late for the driver to brake, depending on how suddenly the person appeared on the crossing. There have been 17 near misses at Cottonmill Lane level crossing which is high compared to other similar level crossings.
After further analysis of our data at Cottonmill Lane level crossing we have recorded 845 incidents at the crossing. This is greater than the initial figure of 787 as we have now identified further examples of pushchairs becoming stuck, users not dismounting on bikes, and extraordinary incidents such as trespassers and users spending prolonged periods of time lingering on the crossing.
This data was collected as part of our routine risk assessment of level crossings. Two separate 9-day censuses of Cottonmill Lane level crossing took place between 25/07/15 – 02/08/15 and 01/07/17 – 09/07/17. Due to data protection concerning the identity of individuals filmed by the covert camera, we are unable to release footage of every incident.

Examples of deliberate misuse and user human error at Cottonmill Lane level crossing
This page will be regularly updated to include any new information about our work at Cottonmill Lane level crossing.
Anyone wishing to contact us about Cottonmill Lane level crossing can do so by emailing cottonmilllane@networkrail.co.uk or calling 0345 711 4141.